Nov
27
Wed
2019
Conference: "Mobilier et dînette miniatures pour l'au-delà: l'exemple d'une tombe d'enfant à Erétrie", Isabelle Hasselin (Paris, Musée du Louvre)

@ University of Fribourg, MIS 3013
Nov 27 @ 3 h 15 min – 5 h 00 min
Nov
30
Sat
2019
Wide Audience Lecture: "Jeux et jouets des enfants sur la peinture de vase grecque antique", Hanna Ammar (University of Fribourg / EPHE)

@ Lugdunum. Musée et théâtres romains
Nov 30 @ 3 h 00 min – 4 h 00 min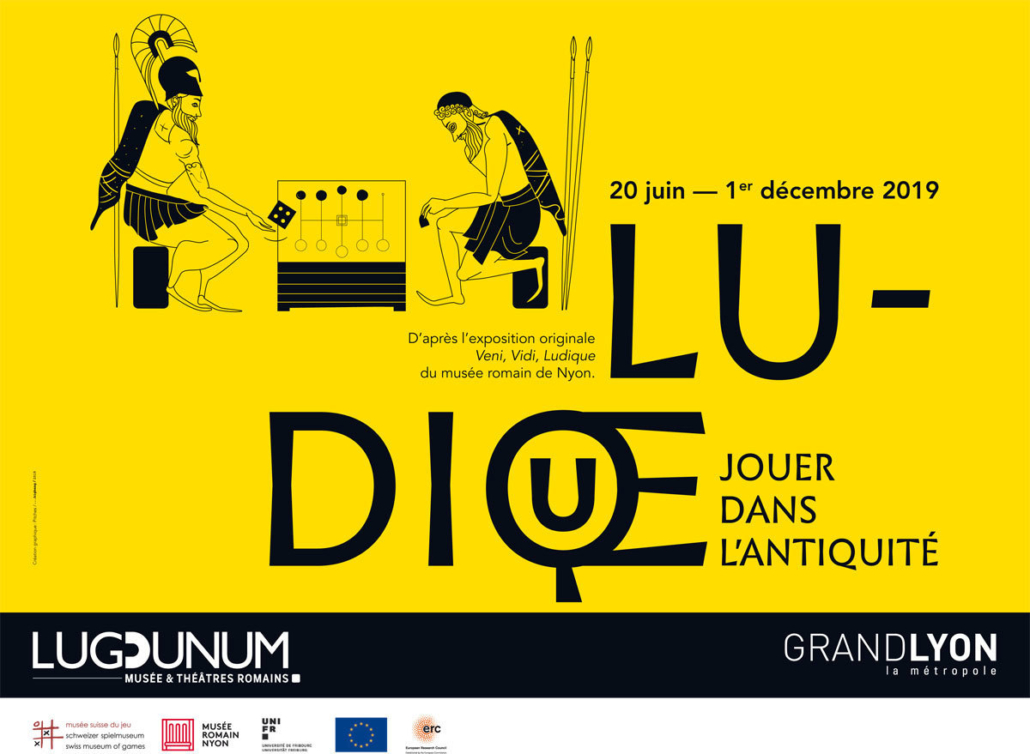 Conférence de clôture de l'exposition Ludique! Jouer dans l'Antiquité.
Sur les images de vases grecs des Ve et IVe siècle av. J.-C., petites filles et petits garçons, sont fréquemment représentés en train de jouer seuls ou en petits groupes.
La lecture de ces images amène plusieurs questions. D'abord, celle de l'identification des jeux, et de la possibilité – ou l'impossibilité – d'en comprendre les règles ; puis, celle des choix de jeux et jouets effectués par les peintres de vases ; enfin, celle des valeurs éducatives du jeu et de la mise en scène d'une enfance grecque en apprentissage.
Apr
16
Thu
2020
XIVth Roman Archaeology Conference 2020 – Session Board games and gambling in the Roman world: entertainment beyond circuses, amphitheatres and theatres
Apr 16 @ 8 h 41 min – Apr 18 @ 9 h 41 min
XIVth Roman Archaeology Conference 2020
Session BOARD GAMES AND GAMBLING IN THE ROMAN WORLD: ENTERTAINMENT BEYOND CIRCUSES, AMPHITHEATRES AND THEATRES.
Abstract
The enjoyment of leisure time and recreation is an important part of human experience. While much attention has been paid in Roman archaeology to top-down mass entertainment such as amphitheatre games or races in the circus, gaming and gambling, a more ad hoc and, in many ways intimate, type of leisure activity, has received comparatively little attention. Past work, drawing on literary evidence, explores the kinds of games played in the Roman world and examines social attitudes to gaming and gambling. This scholarship often references material remains, such as board layouts or inscriptions, but textual sources remain in the forefront. Some recent research into, for example, the phenomenological experience of dice-rolling, the transmission of games within the Roman world and the connection between gaming, gambling and literacy, has emphasised the valuable insights to be gained from interrogating the material evidence on its own terms, underlining the potential for archaeologically-informed contributions.
The literary focus has, however, led to the materiality of games and gaming being underexplored; further consideration of the material evidence has potential to provide new outlooks on the social value of this aspect of entertainment in the Roman world. This session invites papers focusing on any aspect of the material culture of gaming and gambling from across the Roman world, with a special focus on dice, dice cups/towers, counters and boards which survive in the archaeological record – whether these items are specially manufactured or created from recycled material. Papers focusing on the more ephemeral effects of materiality on the gaming experience, such as availability, portability, and the creation of such objects are also welcome, as are those exploring the distribution patterns and chronological changes relevant to gaming and gambling.
DEADLINE FOR SUBMITTING A PROPOSAL 15 NOVEMBER 2019
The RAC 2020 Executive Committee is pleased to announce the Call for Individual Papers for the Fourteenth Roman Archaeology Conference in Split, which will run from Thursday 16th to Saturday 18th April 2020, with excursions on Wednesday 15th and Sunday 19th April.
The Conference will address a range of important topics and themes relating to the archaeology of the Roman world. We are inviting proposals for Papers that will present new discoveries or ideas in the field of Roman archaeology through 40 themed conference sessions.
Paper proposals that extend beyond these thematic areas will also be considered. For more information about the RAC 2020 themed sessions, see below.
Paper proposers should note the following:
•       Presentations should last no longer than 30 minutes
•       Speakers should leave sufficient time at the end of their papers for questions from the audience
•       The official conference languages are English, French, German, Spanish and Italian
•       Unfortunately, RAC cannot cover the costs of speakers' travel and accommodation to attend the Conference
•       This is a participative conference where more than half the delegates are speaking, so all delegates are expected to pay the conference fee. This helps keep the fees as low as possible and also maximises participation and engagement
Proposals for papers must include the following information:
•       Title of the Paper
•       Name, affiliation, postal address and email of the proposer(s)
•       Title of the themed session in which they would like to offer a Paper (or 'General' if outside a themed session)
•       A short description of the theme or subject area of the Paper (not more than 200 words)
Session organisers should also note the following:
•       They will need to instruct the speakers included in their original submission to send in their Paper proposals and abstract
•       Additional Papers are likely to be offered for all sessions. The final list of speakers at the Conference will be decided by session organisers, with advice from the Executive Committee
•       RAC cannot cover the costs of speakers' travel and accommodation to attend the Conference
The deadline for the submission of Paper proposals is 15th November 2019.
Submissions should be sent by email to the RAC Executive Committee: rac2020split@gmail.com
AND to the lead organiser of the session the Paper is intended for.
PLEASE NOTE THAT RAC 2020 IS ALREADY VERY FULL, SO WE CANNOT GUARANTEE
THAT ALL PAPER PROPOSALS WILL BE ACCEPTED
The full Conference schedule will be announced in December 2019
Organisers: Natasha Harlow, University of Nottingham, UK; natasha.harlow@nottingham.ac.uk
Summer Courts, University of Edinburgh, UK; s.l.s.courts@sms.ed.ac.uk
Tim Penn, University of Edinburgh, UK; tim.penn@ed.ac.uk
Veronique Dasen, ERC Locus Ludi (741520), University of Fribourg, Switzerland (https://locusludi.ch) veronique.dasen@unifr.ch